Learn to Sail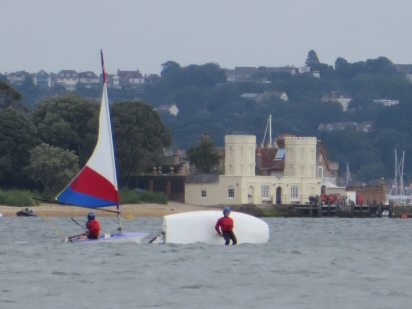 Courses for adults and older teenagers
As a small family-run centre, we are able to arrange sailing courses at times to suit you. We can teach you in a group, as a couple or on your own.
This could be one or more weekends, or a series of day or half day sessions spread over a longer period.
Please contact us to discuss dates.
Introduction to Sailing
This practical session is the ideal way to see if sailing is for you. An instructor will show you the basics and get you out on the water.
RYA courses
For adults and older teenagers, from complete novice to Basic Skills (level 2) typically takes 4-5 days. Our junior courses give opportunities for youngsters to progress through the RYA Young Sailors scheme. More details of the RYA scheme are given on the 'RYA Courses' page.
Refresher Courses
These are aimed at those who have done some sailing before, but perhaps have limited experience or have not sailed for a while. Course content is flexible and is tailored to suit your requirements.
RYA Onboard Club
The Onboard scheme aims to encourage young people to take up sailing. Our junior sailing club runs each Saturday morning from 9:30 to 11:30hrs between May and September. It is open to ages 8 to 16 yrs (all levels of ability). Pre-booking is necessary and discount pricing is on offer if you book 6 sessions in advance.
Private tuition
We can provide individual tuition to suit your particular requirements. This includes tuition in your own boat if desired. Please contact us to discuss your needs.
Annual Club Membership
If you are looking to sail on a regular basis why not consider our club membership package? This provides affordable access to regular sailing without the expense and commitment involved in owning a boat. It is a no-hassle way to gain experience and progress your sailing after completing a course.
Club membership costs £120 and gives the following benefits:
Free solo use of Topper or Topaz Uno dinghies, with no additional hire costs,
Discounted hire rates for crewed dinghies,
Opportunities to develop your sailing with guidance and support,